(Virtual) Mirror Mirror on the Wall – The fairest of them all
Retailers from John Lewis to Topshop are installing Virtual Mirrors in stores allowing customers to virtually try on clothes. The claim is that shoppers don't have to deal with the hassle or time required to visit a fitting room to try them on. Will there be a digital equivalent to the 'optimisations' applied to real world fitting room mirrors such as tilting the mirror back by a small degree to produce a reflection more flattering to the viewer?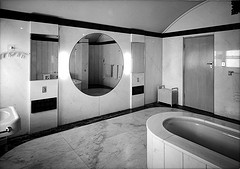 In a recent paper published in the Journal of Interactive Marketing, I Like Your Product When I Like My Photo: Misattribution Using Interactive Virtual Mirrors (Subscription Required), researchers looked at the effect of image manipulation and optimization in a simulated product experiences much like that of using a virtual mirrors. They found the use of a "Smile" photo to base the superimposition of earring produced 1 point increase of the users evaluation of the product on a 10 point Likert scale.
So participants evaluated items more favorably when they were portrayed with a smile. How can retailers use this to their advantage today and in the future? The most immediate use would be to optimise the interface of virtual mirrors which take a photo to superimpose items on a person. Such systems should prompt for the user to "Smile in 3 … 2 … 1″ via on-screen graphics and/or audio. Beyond this there is a possibility of using methods used in consumer cameras to to select "'Best Photo' out of many taken very close together.
Further into the future virtual mirrors could use live video processing to apply appropriately subtle modifications to the image ensuring the user is portrayed with a more favorable facial expression. There is an even further potential to 'calibrate' the degree of image modification to obtain the most optimal level of modification. Retailers such as NEXT Plc have already implemented unique ID labeling (NXUID/U-POS/U-Label) of all garments on sale. By leveraging such systems it would be trivial to then track the conversion rate between shop floor to till point along with also tracking the return rate. This would result in the the potential to preform A/B testing with the virtual mirror experience.
comments powered by

Disqus